PIVVOT ROUTING ANALYSIS
Our routing analysis software generates point-to-point preferred routes and allows users to upload existing assets such as pipeline and electric transmission lines.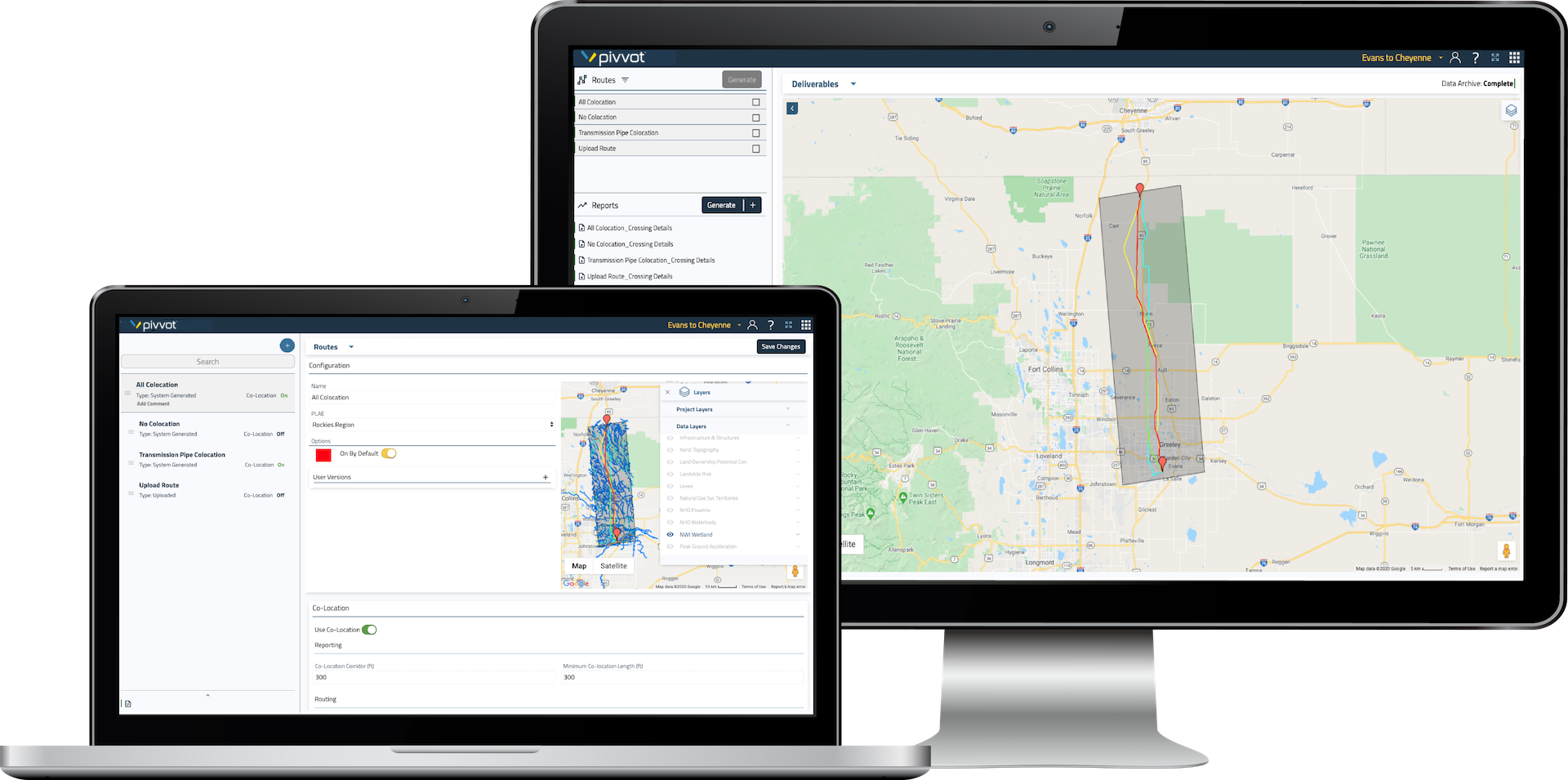 IDENTIFY THE BEST ROUTE FOR YOUR ENERGY PROJECTS
DEFENDABLE DESIGN
Lower environmental footprint reduces costly impact studies

Set preferred, low avoidance, avoidance, and exclusion constraints to meet business objectives

Avoid land barriers, permitting issues, and protected Lands
ACCELERATED TIMETABLES
Routing analysis generates detailed reports in hours, rather than weeks

Identify route alternatives earlier in the process

Costs are lowered with shorter project schedules and reduce time in field
CROSSING & IMPACT REPORTS
UPLOAD ROUTES TO GENERATE CROSSING AND IMPACT REPORTS
Evaluate environmental, engineering, land ownership, and jurisdictional data

Reduce costly impact studies & time spent in the field

Avoid land barriers, endangered species, and protected lands

Compare routes side-by-side to select the optimal path
ROUTING ANALYSIS WITH PIVVOT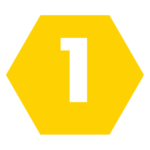 Step 1: Get Pivvot Subscription
Gain access to hundreds of data sources in our location intelligence platform.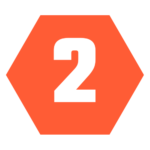 Step 2: Configure Criteria & Constraints
Set project criteria and areas to avoid, include, or exclude to generate viable route options.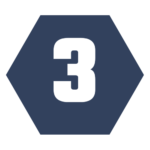 Step 3: Download Impact & Crossing Reports
Download detailed crossing and impact reports to evaluate environmental, landowner and permit issues.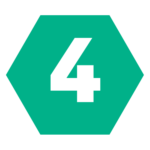 Step 4: Save Time & Money
Save time and money on routing analysis by reducing project timelines by 50%.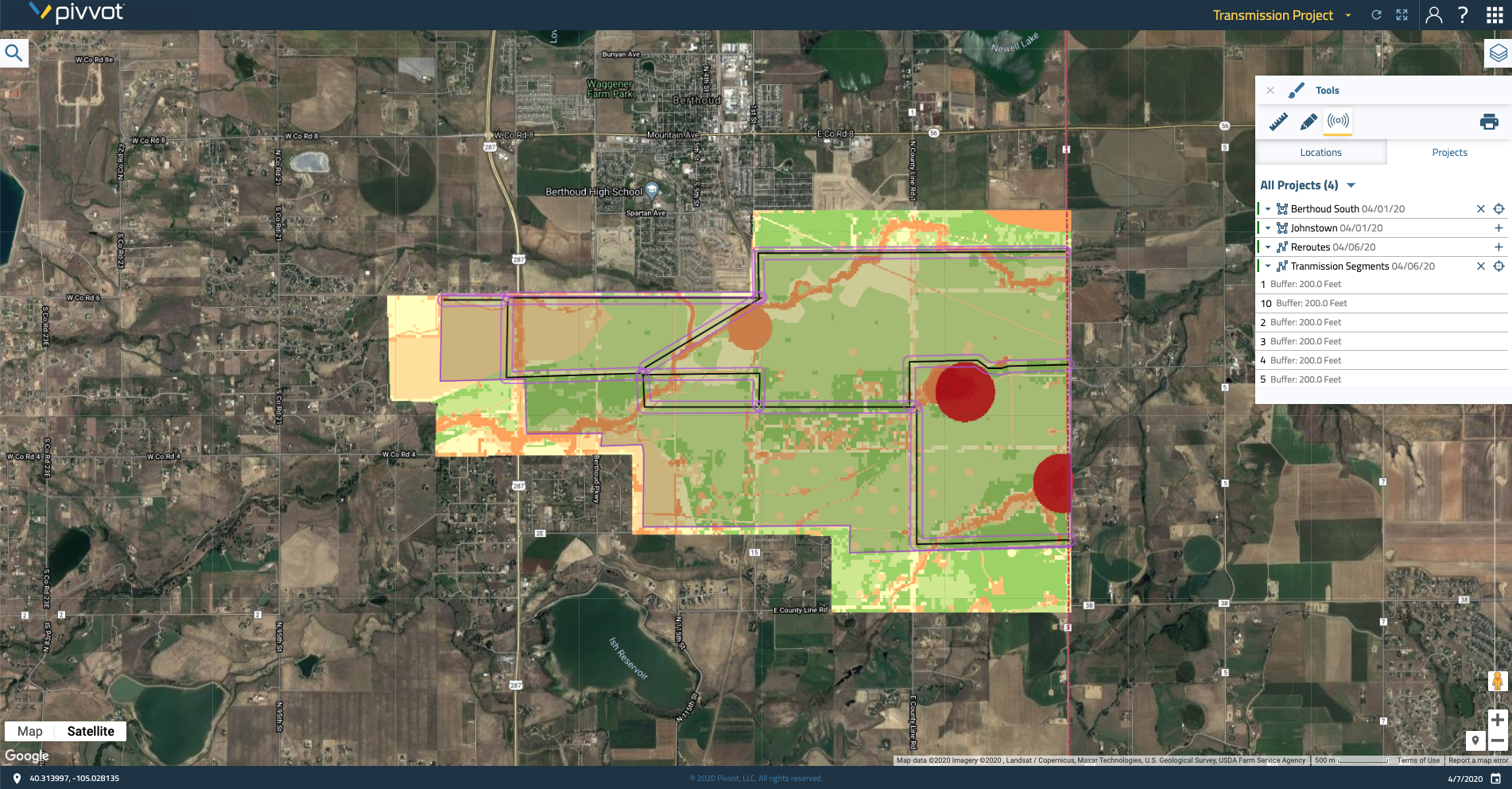 CONSTRAINT VISUALIZATION
GENERATE A COST SURFACE TO VISUALIZE SUITABILITY FOR YOUR ROUTE
Evaluate usable land in your area of interest

Identify constructibility and permitting issues

Visualize ideal Locations for your project
Case Study: Expedite Pipeline Routing Analysis with Better Data & Reporting
To help its organization reduce project costs, enhance efficiencies, and improve project delivery, Audubon implemented the Pivvot platform.
Pivvot helped improve the pipeline routing analysis process with data accessibility, transparency, and speed.  The data-rich analyses and reporting features were instrumental in delivering further value to Audubon's customers.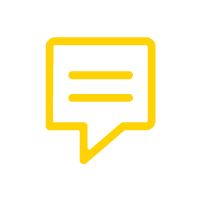 PIVVOT WORKS WITH CLEAN ENERGY COMPANIES & ENGINEERING FIRMS
"Pivvot's routing analysis software produces detailed reports allowing us to conduct insightful analysis and better cost estimations early in the process." – Project Director, Engineering & Construction Firm